Whether enjoying some leisure time at Tarry Ho or planning an outing, your choices are virtually unlimited. Opportunities abound for all ages, interests and energy levels!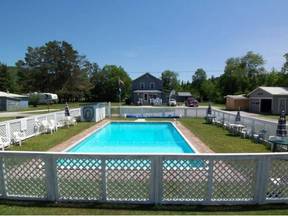 Wi-Fi Service
Hopefully you'll spend most of your time enjoying the great outdoors, but if you'd like to stay in touch with the virtual world, we offer free Wi-Fi service throughout the campground (upgraded summer 2015)
Store
Be sure to stop by our store to purchase any of life's necessities. Our store is fully stocked with firewood, ice, snacks, candy, smores supplies, toiletries, paper plates, cups, decks of cards, small propane, a few toys for the kids, drinks basic necessities you might need while away from home!
A computer and printer are available if you need to help planning your trip or need something printed in a pinch.
Ice Cream
Who doesn't love ice cream?? This summer we renovated part of an old cabin that hadn't been used in at least 10 years,
lovingly called our 'Ice Cream Shack'. We're serving up Blake's Ice Cream from Blake's Creamery in Manchester, NH.
15 flavors sure to make your belly happy. YUM!

Campfires
If you're looking for some peace and quiet, kick back and enjoy the surroundings, some mountain views and maybe a memorable campfire with friends. Toast up some marshmallows and make smores while enjoying the beautiful night sky.
Lounge by the Pool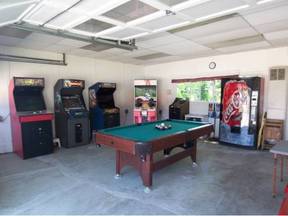 If the heat is getting the best of you, why not take a refreshing break in our 20 x 40' pool which is open from Memorial Day through Labor Day.
Fun in the Ammonoosuc River
Tarry Ho is located right on the Ammonoosuc River where you can try your hand at trout fishing or bring your favorite innertube and float down the river. Sometimes the river gets low and rocky. Some of our guests bring lawnchairs down dip their feet in. Dogs love it too!
Recreation Hall & Board Games
Our Rec Hall has games for all to enjoy! Our Rec Hall now has has ping-pong and foosball along with a pool table. More competition for all ages!
We've added a selection of board games in the office too, which can be borrowed by guests. Bringing back some memories we have Clue, Battleship, Sorry, Chutes & Ladders, Boggle, Monopoly and a few others.

Outdoor Games
The entire family can also enjoy a pickup game of basketball, volleyball or horseshoes. Rackets and equipment available in the Rec Hall or Office/Store FREE to use!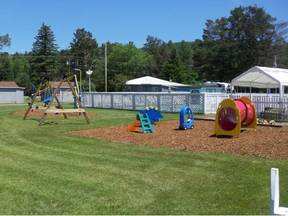 Playground
The playground and sandboxes are sure to entertain the little ones with lots of fun for hours! Toddlers and little ones will love the Dino-Rider and Crawl Tube. Elementary school age children will have fun on the Pikes Peak climber and the Bounce Buttons. Younger kids enjoy riding their bike around the campground. Don't forget the helmets!
Enjoy the White Mountains, natural trails and hikes or attractions. If you need information or directions, we have many brochures in the office and would be happy to help you plan your time in the area.
SAFETY NOTE: Playground and park area close at dusk. All kids must be back at their campsite at dusk or with an adult if walking. No bike riding after dusk.
Kids MUST wear helmets when riding bikes around campground and no double riding.
Kids must be accompanied by parent when using bath house.
Pool is for age 15 and older without a parent. No child under 15 is allowed in pool fence unless accompanied by person 21 or older.
NO RIDING OF MOTORIZED SCOOTERS, BIKES, ATV'S ETC AROUND CAMPGROUND (KIDS OR ADULTS).
Thank You for your understanding!