About Us: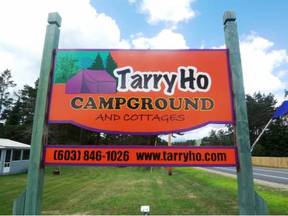 While theTarry Ho Campground and Cabins has been around for many years (we heard since the 1960's), mid 2014 marked its first season with the Palys Family as your resident host family.
Past guests come back year after year and we hope you do as well. We know that you'll feel just like family during your stay with us.
Our location is easy to find on google maps (not so much on a GPS). And we are the most convenient campground to enjoy all the White Mountain's activities (say our last year's guests).

Our Tarry Ho Guest Services has been working hard over the winter, developing partnerships with area attractions to bring discounts to our overnight guests. Check in at the office and see what we have! We're trying to help you save money on your vacation. A computer and printer are available in the office should you need access during your stay.
We welcome (and discount) large groups from April through November and will help you plan your stay to get you just what you need. Keep in mind we're close to the Omni Mt. Washington and Mountain View Grand if you'll be attending a wedding or event. Our cabins are a great overnight alternative.
The Palys' are looking forward to making your stay the most comfortable and memorable vacation experience in the White Mountains again in 2015. We also made a few upgrades for your convenience. Enjoy!