A mix of natural beauty and attractions combine to offer almost every imaginable vacation opportunity. Whether you are looking to relax by the Ammonoosuc River, hike, bike, fish, climb, shop or just explore the White Mountains, Tarry Ho is here to make your visit the best of the summer. Ask us about discounts, local events or special occassions.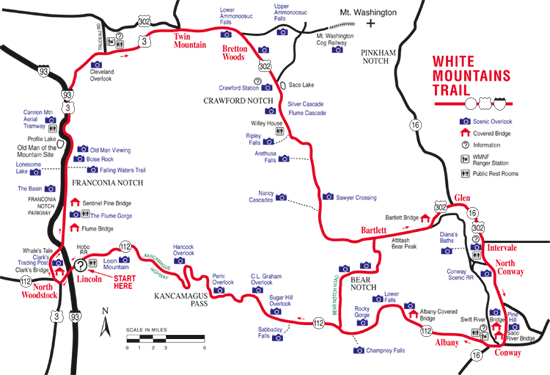 Fishing Derby (ages 16 & under) Sponsored by Twin Mountain Parks & Rec -Monday 5/29/17 (Registration 7:30am) Fishing 8-10am
Memorial Day Parade 5/29/17 11:00am Downtown Twin Mountain (see from Info Booth & Fire Station)
Fireworks Sunday, July 2 at St. Patrick's Church field Sponsored by Twin Mountain Parks & Rec
Fireworks Tuesday, July 4 at Bretton Woods Adventure Center Sponsored by Omni Mt. Washington Hotel
5 M(Route 302 east)
15 Minutes Away

20 - 30 Minutes Away
30-60 Minutes Away
60 - 90 Minutes Away
The 45th Parallel (Route 3 north)

Get on up here!
The weather's perfect for fishing, hiking and golfing!

We're often asked about fishing in the Ammonoosuc River that runs along our campground.
There's great fishing here and other spots within walking distance.
Rod & reel fishing is allowed -just make sure you have a fishing license - available online at NH Fish and Game website.
The Twin Mountain Fish Hatchery is right around the corner.

We post discounts and contests on our facebook page.